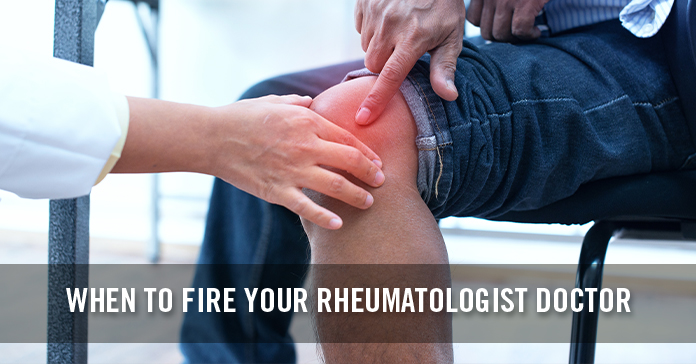 If you suffer from Osteoarthritis or Rheumatoid Arthritis, you have no doubt been to one or more rheumatologists to receive treatment. Rheumatologists can provide the care and resources you need to manage arthritis symptoms, alleviate pain, and improve your quality of life. Sometimes, however, it becomes necessary to take matters into your own hands and find a new rheumatologist. When is firing your rheumatologist the way to go? How do you know when you've reached that point? Luckily, we're here to help! We've compiled a list of signs it may be time to fire your rheumatologist.
Their examination routine ignores your pain. If you talk to your rheumatologist about the painful swelling in your knees before an examination, and they go straight for the reflex hammer to test them, your rheumatologist may not be considerate of the pain he/she will cause. If your doctor is not sympathetic to your pain and does not make an effort to examine you without causing undue discomfort, it may be time to change up your routine!
You cannot easily get ahold of your rheumatologist. If you call and call your rheumatologist's office, leave messages, ask for prescription refills, and cannot speak to anyone, it may be time to move on. All doctors should prioritize their patients, and rheumatologists are no different. Your needs as their patient should be of great concern. If they are not readily available to you, they may be focused on different things. If this is a consistent pattern, it may be time for you to find a different rheumatologist.
Inconsistent continuity of care. With a chronic condition like arthritis, you require regular doctor's visits. While rheumatologists may have many patients, your chart should still have detailed notes about your medical history, and current flares. While it may not always be perfect, you should not have to repeat your history, current medications, etc. to your rheumatologist. If you find that they are not listening to you or are failing to follow along, you can take matters into your own hands and fire your rheumatologist.
Rheumatologist does not explain their process to you. As a patient, you have the right to know the reasoning behind your doctor's decisions when it comes to diagnostic testing, treatment options, and examination routines. If you need a scan, your doctor should explain what they are trying to rule out, what they are looking for, and why they are ordering the scan in the first place. If you feel like you are left in the dark by your rheumatologist, you should consider finding one who will keep you informed.
Your rheumatologist discourages or ignores your questions. Many doctors will encourage patient questions or make time during your visit to answer any questions you have about your care. If your rheumatologist avoids your questions, seems too rushed to answer them adequately for you, or makes it difficult to have a conversation about your treatment plan, etc. you may need to find a new rheumatologist.