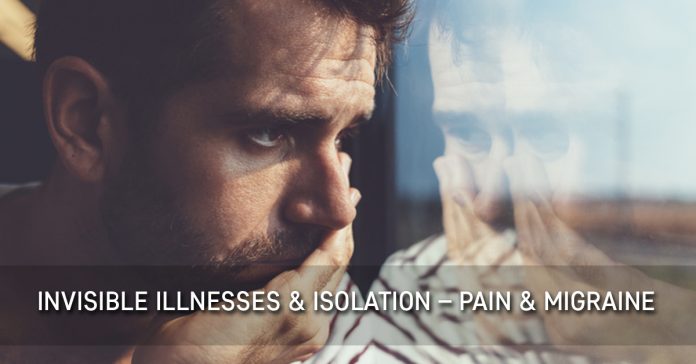 Did a Migraine mess up your Life too? Share and Comment to show your Support!
If the title Invisible Illness & Isolation – Pain & Migraine, caught your eye enough to read this article, you'll probably relate to it. For a brief moment, you won't feel alone, but the reality is that you undeniably are.
Solace in comradery is extinguished with hopelessness upon realizing that so many others are suffering, yet nobody has helped them either. I hope your experience reading this ends differently.
I don't have the cure, but you can stop the self-perpetuating downward helix of chronic pain and depression.
Stay connected with your friends and family.
Push yourself to be available as a partner.
Don't give up.
Create awareness.
At 32 I was popular, successful, attractive, most importantly- happy.
Now 35, I am isolated, unemployed, overweight, and depressed.
I let the pain take me on a blindfolded trust walk. Being optimistic about the longevity of my pain, I carried no shame missing social events, work, and holidays at home. I prioritized treatment for my symptoms and search for permanent relief. It was the opposite of what was best for me.
I avoided social engagements and my job.
Within months, calls from friends had been almost totally replaced with calls from debt collectors. The lack of activity caused 40 pounds of weight gain, I started pooling fluids in my ankles. I lost my happiness and held tightly to my pain. Outspoken, I lashed out at anyone who doubted or minimized my pain, and it's what I've got now. I should have defended my relationships and my career. My depression and anxiety are now a migraine trigger. I unknowingly exacerbated my symptoms.
The isolation has been my biggest enemy. I know where I went wrong, but do my friends know that my reclusion is partially their responsibility as well?
Nobody likes being doubted or called a liar. Everyone wants some sympathy when they are in pain. This is normal. Had I received some better-trained support from friends, I might still have them. Had my job considered my 7-year tenure instead of my recent difficulty, I would be able to pay for my medical appointments.
While you or I may get drawn in by a title like Invisible Illness, Isolation – Pain & Migraine. Most people don't want to see that. Help me get the word out there that if you miss anyone in your life who contracted an invisible illness, they probably miss you so much more. Share this directly with someone you want to hold on to tighter than your pain, or someone you let go of only to sink without.
Did a Migraine mess up your Life too? Share and Comment to show your Support!
Source: CureUp