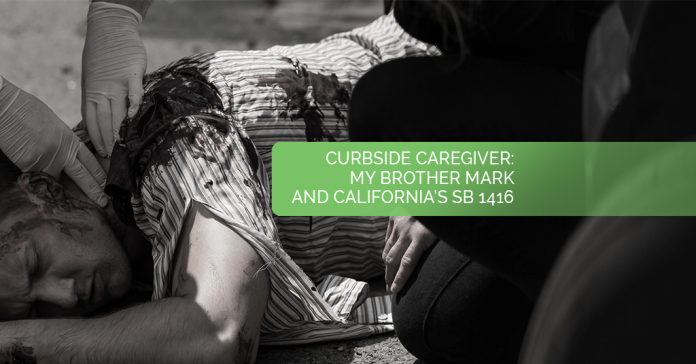 I am a Curbside Caregiver, Linda Rippee Privatte, keeping my promise to Solano County and the State of California, that I will continue to tell my brother Mark Rippee's story.
Mark lost both eyes in an accident along with a massive TBI and loss of 1/3 of his frontal lobe. A few years later he developed a serious brain disorder with anosognosia. He is" Gravely Disabled" although we cannot get him designated as such due to the vague interpretations of the law by each of the 58 counties. There is no LPS accountability.
Mark has had over 65 surgeries since 1987. Metal rods, plates, screws and wires hold his leg, face, jaw, and head together.  Mark has been homeless for 15 years. We have not been able to have Mark conserved after many opportunities for Solano to appoint a Public Conservator. Mark was hit by a car in Sept. 2019 as he walked into traffic while delusional.  Our laws allow a person with a SBD to refuse medical attention. He lay on the sidewalk 2 weeks with a head injury.  He had surgery for a brain abscess and was hospitalized for a month.  Solano County did NOT think he was a danger to himself or others.
Four months later he walked into traffic and was hit again.  The 85 year old driver was not injured.  Mark's critical injuries hospitalized him for 8 ½ months. Mark broke his leg and the metal rod that had been there for 34 years had to be replaced.  He had facial, head injuries, internal injuries, broke his shoulder, lost teeth, and had more surgeries. Solano County and their interpretation of the criteria did not think that he was a danger to himself and others. This past October, he fell into the street and broke his hip.  He lay on the sidewalk in front of the county building for 25 days refusing medical assistance. He had surgery and spent 3 months hospitalized. Still no one thought he was a danger to himself or others.
We have hundreds of documented times that Mark has walked into traffic. Supervisor Vasquez admitted in 2018 that he had witnessed Mark in traffic for over 10 years!  We have proved that Mark is a danger but Solano County wants more proof, the kind of proof that will ONLY come from the Coroner's office. The board has not communicated with me since 2019.

The county gave us three different reasons why Mark does not qualify for an LPS: we were told that he could not qualify for an LPS due to the fact he has had a TBI. He could not qualify for a Probate due to him also having a serious brain disorder.  They called it a catch-22. Then we were told that because he had the TBI first, prior to the onset of a Serious Brain Disorder. Last, we are told that I and others who feed and clothe mark are giving him 3rd party assistance to survive, therefore preventing him from being labeled "Gravely Disabled," not that there are any resources on the other side of that label.
Changes in the law and the criteria for gravely disabled are necessary on the State and Federal levels.  SB 1416 may help remedy situations like Mark's and I have begged our county to send letters of support for the changes needed at the State and Federal levels not use it as an excuse to do nothing for Mark.
Sincerely, Linda (Rippee) Privatte
An American Curbside Caregiver
707-590-839