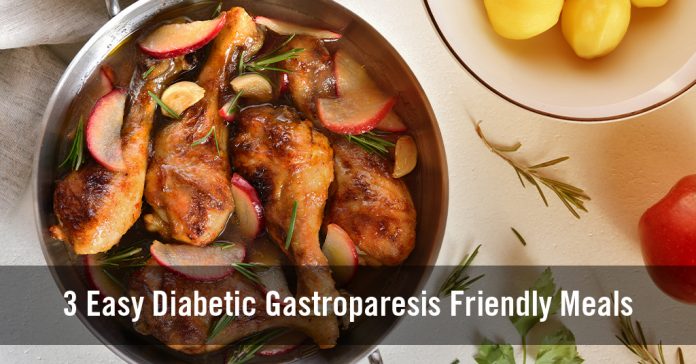 Experimenting with food can lead you down a very exciting road even if DGP makes that road have a few speed bumps. Just because your health condition requires certain restrictions, it doesn't mean that you can't enjoy tasty meals. Here are three recipes for you to try.
Apple Cider Baked Chicken
If you like preparing marinades and enjoy a mix of beautiful flavors, this dish will surprise your senses and satisfy your hunger. It is not hard on the stomach, but still be careful if there is some ingredient that causes problems for your digestion.
Here are the Ingredients you'll need:
One large onion, peeled and cut into eighths
One large lemon, sliced into thin rounds
Two cups apple cider
Two tablespoons olive oil
Four sprigs fresh thyme, plus more for garnish
Two Tbsp. apple cider vinegar
Two tsp. Dijon mustard
Three garlic cloves, minced
Two bay leaves
One half tsp. salt
One half tsp. freshly ground black pepper
6-8 chicken legs or thighs
Two large apples, each sliced into eighths
1 lb. small, red or Yukon Gold potatoes, halved.
Preparation: Place a zip-top bag into one large bowl. Add the onion and next ten ingredients. Make sure you combine it well. Now add the chicken to the marinade and close the bag. If you have time, marinade it for 24 hours. If not, let it sit for at least 4 hours.
Turn on the oven to 350 degrees and once it is ready, place the chicken pieces in a roasting pan. Add all of the marinade over and around the pieces. Carefully place the apples and potatoes around the chicken. Cook for 75 minutes, but make sure you stir it once in a while and pour marinade over the chicken. Once the chicken is done, arrange it on the plate and sprinkle fresh thyme leaves.
Drunken Chicken Marsala with Tomatoes
This is a simple and tasty meal, that can be prepared in an hour. It contains fresh tomatoes, chicken breasts, mushrooms, and a Marsala wine sauce. In order to prepare this meal, you'll need:
Sixteen ounces of sliced fresh crimini mushrooms
Three tablespoons of butter
Two cloves of minced garlic
One cup of dry Marsala wine
One teaspoon cornstarch dissolved in 1 tablespoon cold water
Two tablespoons heavy cream
One half teaspoon salt (more if you prefer)
One half lbs. boneless skinless chicken breasts
One tablespoon olive oil
1/3 cup flour
One teaspoon all-purpose seasoning + a pinch of salt and pepper
One or two cups of cherry tomatoes
Fresh parsley
Preparations: Heat the butter in a saucepan over medium heat. Add the mushrooms and sauté for 8-10 minutes, until it changes color to golden brown. After that is finished, add the garlic and wine. Stir occasionally. After 15-20 minutes, add the cream, cornstarch and salt to the marsala mixture – it should start to thicken slightly. Slice the chicken to the wanted size. Mix the seasoning, flour and salt and pepper in a shallow bowl. Coat the chicken with this mix. Pan-fry the coated chicken on each side for a few minutes. Remove when it gets a golden-brown color. Add mushrooms and sauce, top with tomatoes and simmer until the tomatoes have softened. Serve with fresh parsley.
Zucchini Bake
This is a very healthy meal that can be on your table in half an hour. You'll need:
Two large or 2.5 lbs zucchini (cut it into quarters)
Ten oz grape tomatoes or 2 large tomatoes
5 minced garlic cloves
One-half cup of grated Parmesan cheese
One tsp any dried herbs that you prefer
3/4 tsp salt
Ground black pepper to taste
1/3 cup parsley or basil, finely chopped
Cooking spray
Preparation: Heat the oven to 350 degrees F and spray a baking dish with cooking spray. Add all ingredients except basil or parsley into a bowl. Stir until it's mixed well. Pour into the baking dish. If you prefer crunchy zucchini, bake it uncovered for 25 minutes. Add another extra ten minutes if you prefer well-cooked vegetables. Remove from the oven, garnish with basil or parsley and serve warm.
Depending on your time and available ingredients, choose the dishes that are light and easy for the stomach.
Let us know which one did you like the most!