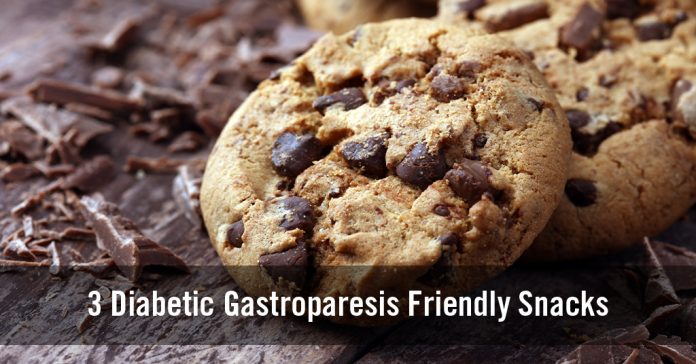 3 Quick Diabetic Gastroparesis Friendly Snacks
Keeping a balanced diet can be hard, especially now-a-days where it is easy to get stuck in a routine and repeat the same meals day after day (you need every minute possible to catch up on all the latest shows). Add DGP into the mix, and suddenly you have a recipe for never being able to find a quick and easy snack (because The Walking Dead isn't the same if you don't have something to munch on).
Chocolate Chip Cookies (Low Sugar / Low Carb)
This is a snack that will come handy when you want to grab something sweet and want to relive your childhood. The ingredients you'll need are:
1-3/4 cups sprouted spelt flour
1-1/2 teaspoons baking soda
1/4 teaspoon salt
1/2 cup packed brown sugar
1/2 cup granulated sugar
6 tablespoons coconut oil
1 teaspoon vanilla extract
2 egg whites
1/2 cup chocolate chips (I use dairy-free mini-chips)
Preparation: Turn your oven to 375 degrees. Mix flour, salt and baking soda in one bowl. In another bowl, mix the coconut oil, brown sugar, and the granulated sugar until fluffy and light. Then add egg white and vanilla until it's mixed well. Now combine it all together and gently add chocolate chips. Put even quantities with a spoon onto the cookie sheet. It should be baked for 8 minutes. Remove it and let it cool down for 5 minutes before putting them on the wire rack.
Gluten-Free Stuffing Rolls
This is a great comfort food that you can serve in all kinds of different occasions. With this quantity of ingredients, you'll get 24 rolls that can be reheated if necessary. Stuffing (gluten-free):
Two tablespoons of olive oil
Two uncooked chicken-apple sausages (gluten-free)
One diced medium onion
One peeled and diced apple
Three teaspoons poultry seasoning (gluten-free)
Dough (gluten-free)
Four cups of high-protein flour blend (gluten-free)
Four teaspoons of xanthan gum (not necessary if the blend contains it)
One and a half teaspoons of salt
Two tablespoons of sugar
Three teaspoons of active dry yeast
1½ cups warm milk
Three eggs
Four tablespoons melted butter or favorite oil
Preparation of the stuffing – Heat the olive oil and add sausage. When it changes color to slightly brown, add onion and apple until they become soft. Add the poultry seasoning. Remove from the heat and allow it to cool down. Chop the ingredients.
Prepare muffin cups and coat them with vegetable spray. Mix flour blend, salt, sugar and xanthan gum. Add yeast when gets mixed well. Take another bowl and combine eggs and oil or melted butter, add dry ingredients. Pour into the muffin cups, cover them with oiled plastic wrap and let it sit in a warm place for about 30 minutes. Heat the oven to 350°F. When it's hot, bake the rolls for about 25 minutes.
Egg and avocado toast
This one is pretty simple but very tasty and nutritious. The only ingredients you need are:
Heat a little oil in the pan, add beaten eggs with a little bit of salt and pepper. Use a small bowl to mash the avocado with a fork and add salt and pepper. Spread it evenly on the toast. Place eggs over it and enjoy your tasty snack.
The most important thing is to be creative. Don't limit yourself to a few types of food. The only way to get all the nutrients your body needs is to eat a variety of foods.
Let us know which recipe did you like the most!